How Does a BMW Plug-In Hybrid Work?
UNPLUG AND PLAY IN A NEW BMW PLUG-IN HYBRID
Are you shopping for a fuel-efficient BMW? Did you know that in addition to the new BMW iX, i4 and i7, BMW also offers an incredible selection of plug-in hybrid BMW models to choose from. At Bill Jacobs BMW, we regularly stock new plug-in hybrid BMW sedans and SUVs, in addition to offering orders for new 2023 BMW plug-in hybrid models. Whether you are shopping for an all-electric BMW or a plug-in hybrid BMW, our dealership in Naperville is here to elevate your journey with the excitement of electric. By combining an integrated electric motor with the BMW TwinPower Turbo engine, you can experience the gratification of all-electric driving for local trips and increased efficiency on all your drives. With even more ways to lower overall ownership costs and additional incentives for increased convenience, living an electric lifestyle has never been easier.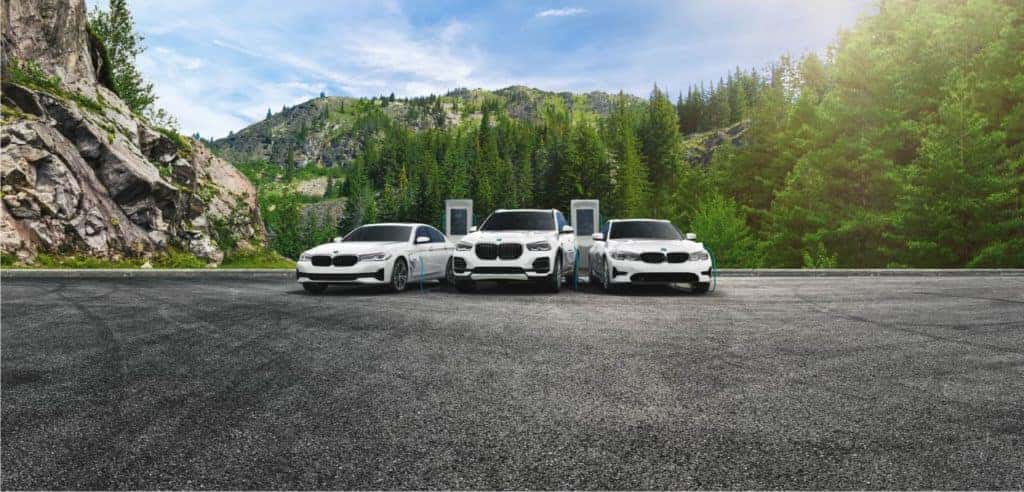 WHAT IS A PLUG-IN HYBRID?
The best of both worlds
Everyone as of lately is talking about electric vehicles, but not as many consumers know about plug-in hybrid options. A plug-in hybrid provides drivers with the best of both worlds, with access to both electric and gasoline power. A plug-in hybrid vehicle (PHEV) has both a combustion engine and an electric motor. Each one is capable of powering the vehicle on its own. Plug-in hybrids use regenerative braking as their energy source, but they can also be plugged in to recharge the battery. Many PHEV owners can already manage most of their trips on electricity because daily commutes are generally less than 30 miles. It depends on how much you pay for electricity, but you will likely be saving a great deal. If the electric charge is depleted, then the combustion engine takes over, so you don't have to worry about finding a charging station.
BMW PLUG-IN HYBRID ON SHORT COMMUTES
When you drive a BMW plug-in hybrid, you get to experience an all-electric drive around town, on your daily commute, or during stop-and-go driving without having to use your gas engine. With an all-electric range up to 30 miles, a BMW plug-in hybrid is perfect for short commutes.
BMW PLUG-IN HYBRID ON LONG COMMUTES
The combustion engine and electric motor can work independently or together for impressive performance and freedom from range anxiety. With a combined range of 400 miles with combined gas and electric and over 35,000 level 2 chargers nationwide, a BMW plug-in hybrid is perfect for your road trips and of course any longer commute over 30 miles.
BMW PLUG-IN HYBRID – ELECTRIC BY DESIGN
Sustainability doesn't stop at the engine in a BMW plug-in hybrid. Your Ultimate Driving Machine is designed with technology and innovation to further deliver the ultimate electric machine. With a digital link to your charge status, you can stay connected to your plug-in hybrid at all times with your My BMW App. Inside your BMW plug-in hybrid, you can view information like charge status, full-electric or combined driving ranges, electric motor output, and more in an exclusive style with the hybrid-specific Digital Instrument Cluster.
BMW CHARGING
With BMW Charging, you can ensure your BMW plug-in hybrid operates at peak performance. Enhance the efficiency of your plug-in hybrid with a comprehensive charging program that offers tailored solutions for both home and public charging.
Compatible with any outlet. Catch a charge at any power outlet with the Occasional Use Cable, included as standard with every BMW plug-in hybrid.
Optimized charging at home. Install a BMW Wallbox in your home for fast charging between daily drives.
On-the-go charging. Access more than 35,000 Level 2 chargers nationwide which you can locate in the vehicle navigation or the MyBMW app. And with the BMW TwinPower Turbo engine, you can be assured that your plug-in hybrid has the range to get you where you want to go.
WHAT ARE THE BENEFITS OF A PLUG-IN HYBRID?
When you drive a new plug-in hybrid BMW, you can receive financial benefits such as potential fuel savings and federal and state tax credits. Currently the federal tax credit for owning an all-electric or plug-in hybrid is $7,500. The current state of Illinois tax credit is $4,000. That is a total of $11,500 in additional savings.
BMW PLUG-IN HYBRIDS AT BILL JACOBS BMW
If you are interested in a new BMW plug-in hybrid, please contact us and one of our BMW Client Advisors will reach out to go the next steps. When it comes to electric and hybrid vehicles, you can count on the team at Bill Jacobs BMW in Naperville to help you go electric.