Your Custom BMW - How to Track from Order to Delivery
Build Your Custom BMW
In addition to our wide variety of in-stock BMWs to choose from, Bill Jacobs BMW is proud to offer custom BMWs, built to order with the assistance of our Client Advisors. At our BMW dealership, we know that the Ultimate Driving Machine is not simply a mode of transportation, it is an expression of power and luxury. Make your own statement by choosing your unique combination of features and options to suit your driving style. By custom ordering your next BMW, you can discover the impressive range of exterior colors, interior fabrics, and trim options available to put your personal stamp on your new BMW. Our Client Advisors are here to assist you in building your next BMW from the ground up. Our team of trusted BMW Client Advisors and Managers will stay in touch with you throughout the order process and keep you updated on the delivery timeline.
How to Track Your Custom BMW Order?
With the current supply chain issues affecting many car manufacturers, BMW has made it incredibly easy for customers to custom order their next BMW and to be able to track the order from order creation to vehicle delivery. The team at Bill Jacobs BMW wants to help make the BMW order process as seamless as possible. Below you the see a visual guide for the BMW custom order process, how to track your BMW order and the timeline for your order.
My BMW Login

Track Your BMW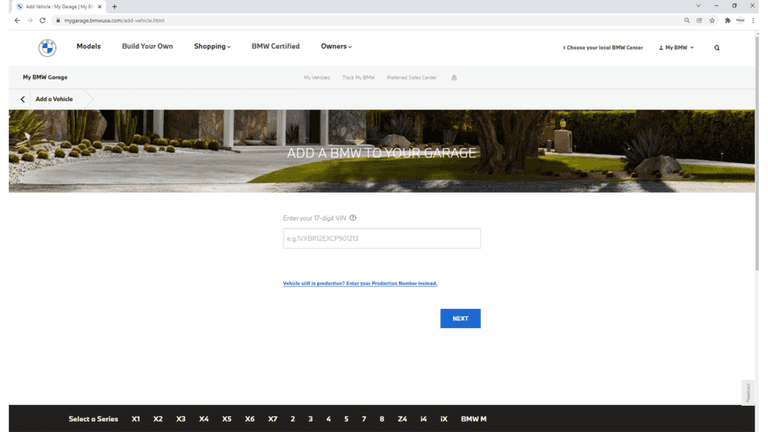 Track My BMW Order Track By VIN or Production Number
Track My BMW Order By VIN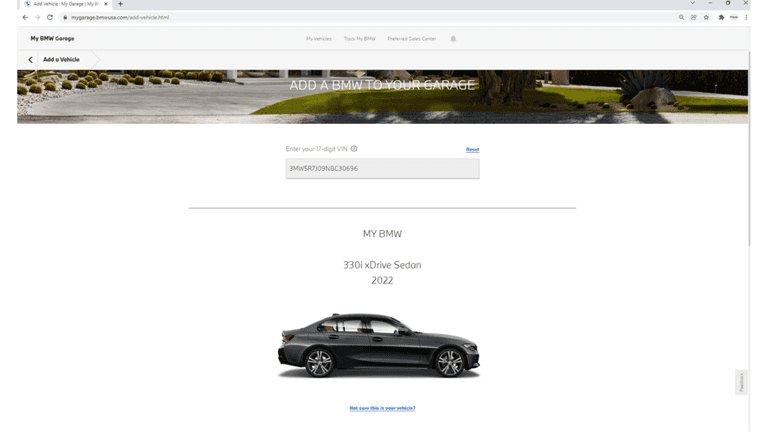 Track Your BMW by Production Number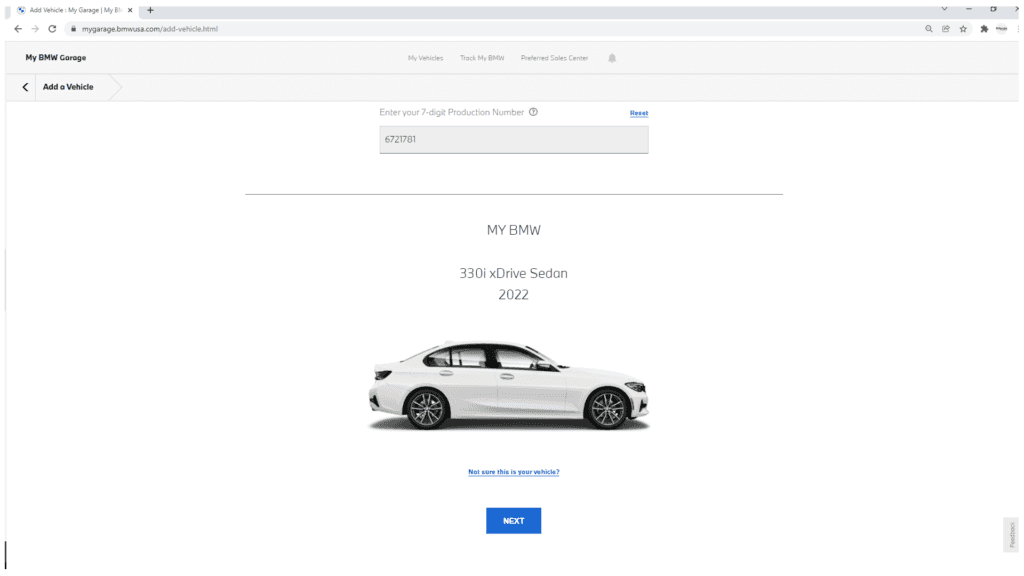 In general, expect 4-5 weeks for BMW's built in the USA (most X models) and 10 weeks for BMW's built out of the USA. This timeline is from the start of production, not from the time of order placement. Special order requests may extend the timeline.
LOG IN TO MY BMW
Refer to the image gallery above if you need a visual!
If you're a first-time BMW owner…
Select "Owners" in the menu and "Register for My BMW"

Enter your information to set up an account.

Once you click "Submit," you will have to check your email to activate your BMW login.

Once you open the email, select "My Garage"
If you're a current BMW owner…
Select "Owners" in the menu and "Sign in to My BMW"

Login with the username and password of the primary account holder

Select "My Garage"
ADDING YOUR BMW FOR TRACKING
Click "Track My BMW" on the top My Garage menu
Click "Add a vehicle" in the middle of the page
If you have the VIN already, add that, or click "Enter production number" instead
Note: If you only have the production number, the specs on the tracking system may not be exact. This will update once the vehicle begins production.
Once you add the vehicle, you can click "My Vehicles" on the My Garage menu, then "Track Status"
This will bring up a timeline of the production events
If you've ever wondered how the BMW factories track the orders internally, here is an "advanced" version of the simple 16 steps above.
Advanced list of BMW factory status codes and their meanings:
0 Order deleted by BMW
17 Order not specified
37 Order is at BMW NA
87 Production Week Assigned
97 Order sent to AG
100 Order deleted by AG
101 Error in data transmitted
102 Special Order (no Prod Week)
105 Order out of Prod. Period
111 Order Accepted at AG
112 Order scheduled for Production. Up to this point you can usually make changes to your order. Once it goes into the next status, 150, the vehicle is already on the assembly line and cannot be changed.
150 Production Started
151 Body Shop Started
152 Paint Shop Started
153 Assembly Started
155 Production Completed
160 Released to Distribution
168 AG Stock
170 Waiting Workshop
172 Planned for Workshop
174 Workshop Entry
176 Workshop Complete
180 Waiting for Export Dispatch
181 Waiting for Domestic Dispatch
182 Schedule for Carrier
190 In transit to port of exit
191 Returned to BMW AG
193 Arrived at Port of Exit
194 Selected for Shipment
195 Shipped from Port of Exit
196 Shipment Arrival
More from Our BMW Dealership
The Future of BMW Electric Vehicles is at Bill Jacobs BMW As the automotive industry accelerates towards a more sustainable and eco-friendly future, BMW is at the forefront of the electric vehicle (EV) revolution. With a rich history of producing luxury and performance vehicles, BMW has been quick to adapt to the changing landscape of…

When it comes to your BMW, you've invested not just in a car, but in a driving experience that's unparalleled. To maintain the performance, safety, and luxury that you expect from your BMW, it's essential to use original BMW parts when it's time for replacements or upgrades. In this blog post, we'll explore the numerous…

The automotive world is witnessing a revolution, and at the forefront of this transformation is BMW with their latest creation – the BMW i7. This luxurious electric sedan embodies the future of sustainable mobility without compromising on BMW's hallmark performance and style. Today, we dive into one of the most compelling aspects of this innovative…