LEASING A BMW FROM BILL JACOBS BMW
If you choose to lease a new car, you will make monthly lease payments until your lease contract is over (36 months is common). Lease payments tend to be lower than a monthly loan payment would be with the same vehicle. Leasing also usually requires little to no money down, so if you don't have a lot saved for a down payment, leasing can be a good choice. The downside to leasing a BMW is the mileage restrictions. If you tend to drive more than 10,000 to 12,000 miles a year, leasing might not be the best option for you. If you have a longer commute to work each day, financing your next BMW might be the best option vs. leasing to avoid mileage charges at the end of your lease.
FINANCING A NEW BMW FROM BILL JACOBS BMW
Financing your Ultimate Driving Machine might be the best option for you if you plan to keep the vehicle for more than 3 years. Just like a lease, you will make monthly payments until the loan balance is paid in full. When the loan is paid off, the car belongs to you outright. You will also need a down payment, typically between 10-20% of the total car price. Sometimes when you finance a new BMW, you can do so with little to no money down. Buying a car also gives you the freedom to drive as much as you want and make any modifications to the car. However, as your car ages, you will have to pay for any needed maintenance that is outside your car's warranty.
LEASING VS. FINANCING YOUR NEXT BMW
Whether you are shopping for a new BMW X7, X5, X3 or 5 Series, Bill Jacobs BMW has the vehicle for you. As the #1 volume BMW dealership in the entire Midwest, you can count on our dealership to help you make the best decision when it comes to buying or leasing your next Ultimate Driving Machine.
BENEFITS OF LEASING A BMW:
Drive a new vehicle every few years
No down payment
BMW warranty
Lower monthly payments
You can buy the vehicle at the end of leasing for a pre-set residual value. If the vehicle is worth more that that, you can still buy it for that amount. Or, if you don't want to, you can turn it in and walk away.
BENEFITS OF FINANCING A BMW:
No mileage limit
No penalties for wear and tear
Once your BMW is fully paid off, your vehicle becomes an asset
Customize your vehicle by making any changes or upgrades you want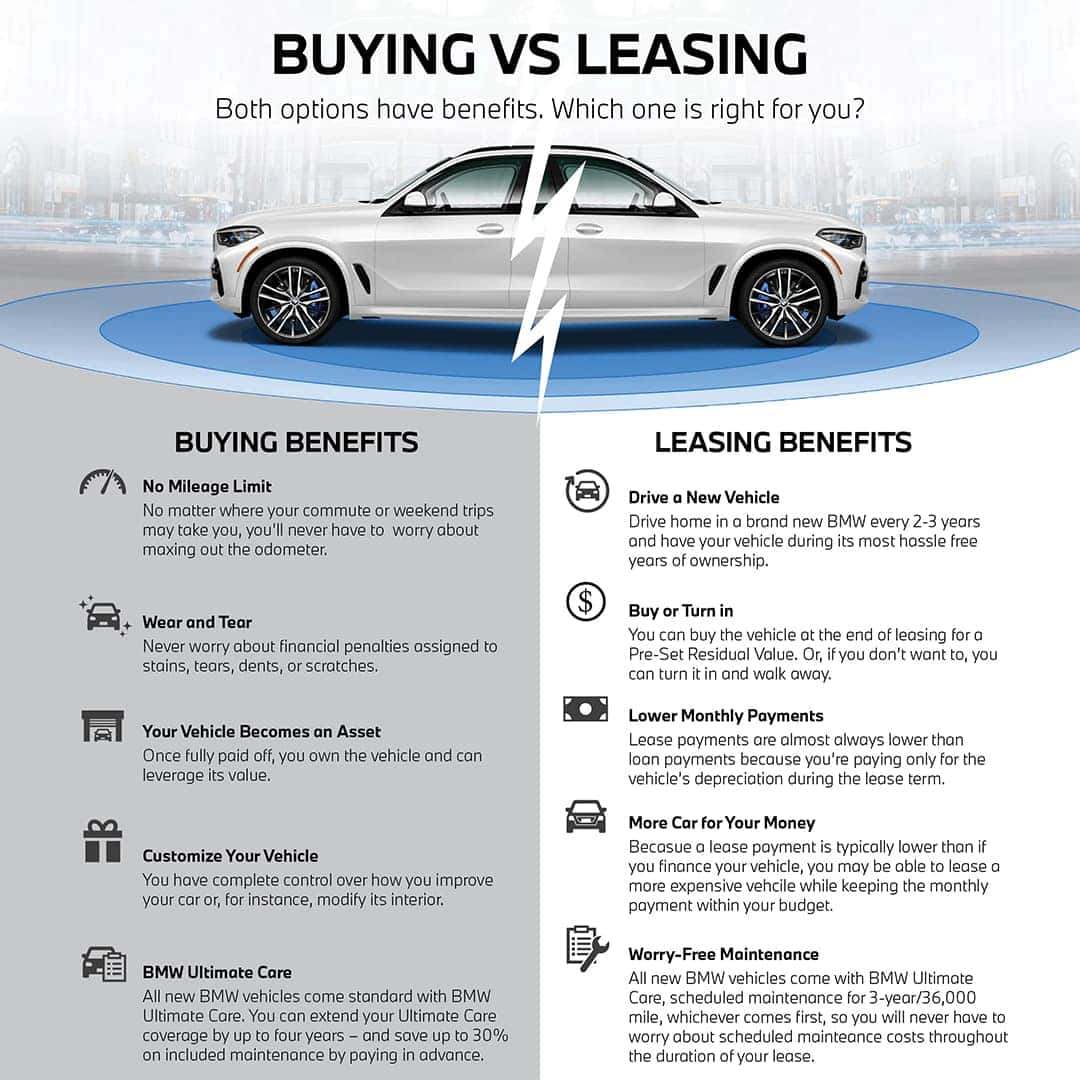 CUSTOMIZING YOUR BMW
If you are in the market for a specific BMW model and have customizations you want to make, you can always build the BMW model to the exact specifications you are looking for from Bill Jacobs BMW. You can easily customize your next BMW to your exact color and specifications by ordering your BMW from our dealership. Whether you are going to finance or lease, you can now customize your BMW with the help of Bill Jacobs BMW in Naperville.
BUYING OR LEASING YOUR NEXT BMW FROM BILL JACOBS BMW
The decision to buy or lease your next BMW can be tough, but don't let this hold up your decision to drive home in your dream BMW. The team at Bill Jacobs BMW is here to answer any questions you have about your next BMW lease or purchase. Stop by our BMW showroom located at 2495 Aurora Avenue in Naperville, Illinois.