Inside the New 3 Series
The original sports sedan adds exhilaration to your every drive with stunning design features, innovative technology, and engine efficiency. Inside the new 2022 BMW 3 series are modernized designs complete with excellent materials and impressive build quality. Outward visibility is supported in the BMW 3 series with well-bolstered and supportive standard sports seats. It's easy to get comfortable in the 3 series with the extensive adjustment options. Additional features inside the 2022 BMW 3 Series include; a detailed head-up display, customizable ambient interior lighting, heated front and rear seats, remote start, and wireless charging. The 3-series has a big trunk with an available power-operated lid. With 17 cubic feet of cargo space, the gas-powered sedan can fit six carry-on suitcases back there and 17 total with the rear row folded.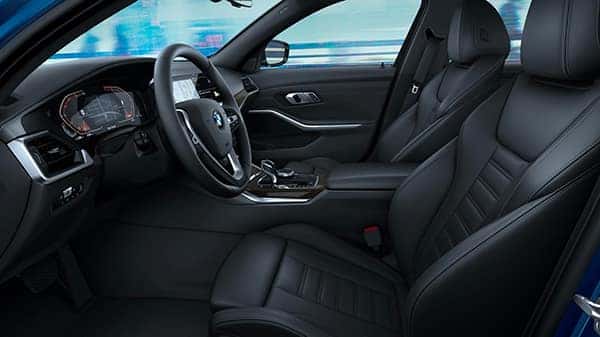 Engine, Performance, and Transmission
With decades of driving performance, the 2022 BMW 3 series gives spirit to the everyday driver. The 3 Series brings power and innovation together in a sedan made to move – from the combustion engine and integrated electric motor of the 330e to the M340i's robust inline-6 cylinder that can generate up to 382 horsepower.
With a low center of gravity, lightweight components, and a suspension tuned to perfection on the grueling Nürburgring, this compact sedan delivers incredible sportiness and dynamics.
With M-engineered components including brakes, suspension, and a 3.0-liter inline-6 cylinder BMW M TwinPower Turbo engine augmented with the latest 48V mild hybrid technology, the M340i brings aggressive performance to the 3 Series Sedan.
The performance and design of the 2022 BMW 3 Series Sedan classify it as a sports car. BMW offers several powerful engines for this model, including a 4-cylinder capable of generating up to 255 horsepower, a BMW M 6-cylinder that boasts a maximum output of 382 horsepower, and a combination 4-cylinder gasoline engine and electric motor with an output of 288 horsepower.
The 2022 BMW 3 Series is a compact sedan that can seat up five passengers.
The curb weight ranges from 3,571 lbs in the 2022 BMW 330i Sedan to 4,200 lbs in the 2022 BMW 330e xDrive Sedan.
The BMW 330i xDrive, M340i xDrive, 330e xDrive, and M3 Competition xDrive Sedans are all equipped with xDrive, BMW's intelligent all-wheel drive. This system delivers enhanced traction for both dry roads and adverse weather conditions. The M3 Competition xDrive comes standard with M xDrive, BMW's performance-oriented all-wheel drive system with adjustable 4WD, 4WD Sport, and 2WD for ultimate control.