Naperville Charity Auto Show
Naperville Charity Auto Show will be hosted at Bill Jacobs BMW and MINI this year: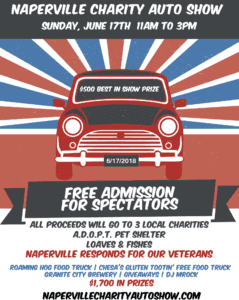 It's Father's Day! What better way to spend the day with Dad than at a Car Show!
​
There will be plenty of great looking cars, food trucks (ChaSa's Gluten Tootin Free Food Truck and Roaming Hog), tastings by Granite City Brewery, and plenty of music to fill the afternoon by DJ MROK.
​
Trophy's and $1700 Prizes will be given to class winners, including $500 for Best in Show.
This event is FREE for all spectators.
For Exhibitors only, we ask that you purchase an online ticket below. All proceeds from the ticket sales will go to 3 local Charity Organizations. Your donation will go to Naperville Responds for our Veterans, Loaves & Fishes, and the A.D.O.P.T. Pet Shelter.
Exhibitors check-in starts at 8:30 AM. Exhibitors may check-in until 11:30 AM.
Judging will begin promptly at 12:30 pm and end at 1:30 pm.
Prizes will be Announced and Awarded at 2 pm.
The show will conclude at 3pm.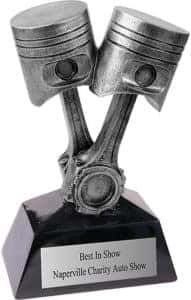 ​
​
AWARDS
​
Best in Show $500 Visa Gift Card

Runner up $200 Visa Gift Card

People's Choice Award $100 Visa Gift Card

Best Classic Muscle $100 Gift Card

Best Modern Muscle $100 Gift Card

Best Euro $100 Gift Card

Best Asian  $100 Gift Card

Best British $100 Gift Card

Best GM $100 Gift Card

Best Ford $100 Gift Card

Best Mopar $100 Gift Card

Best Exotic $100 Gift Card
​
(Note: exhibitors can only choose one category to compete in and they are limited to 55 per class)
JUNE 17, 2018 11-3 PM
2495 AURORA AVE
NAPERVILLE, IL. 60540
(Hosted at BILL JACOBS BMW/MINI )
Visit the site online for more details at www.NapervilleCharityAutoShow.com