JD POWER DEALER OF EXCELLENCE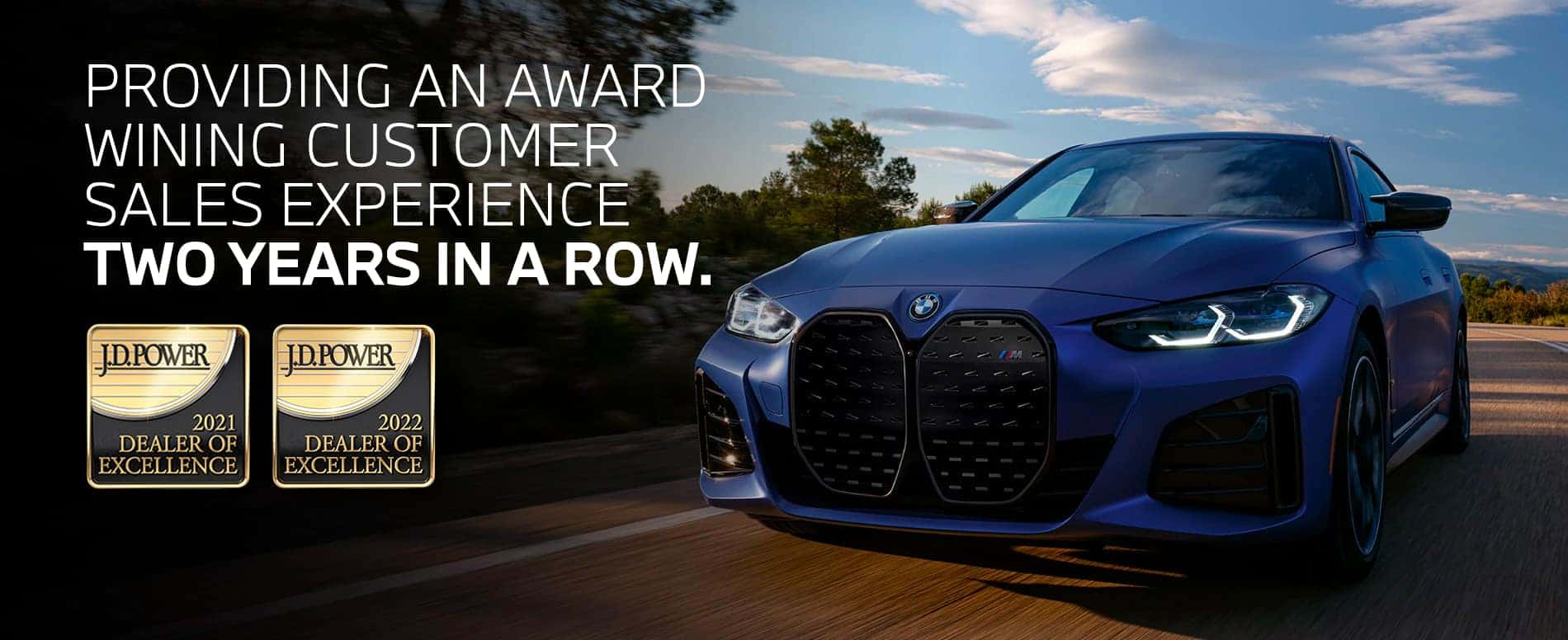 Award- Winning Dealership in Naperville, IL
J.D. Power Dealer of Excellence – Two Years in a Row
Bill Jacobs BMW has been awarded the coveted J.D. Power Dealer of Excellence Award two years in a row. The J.D. Power Dealer of Excellence Award is designed to recognize select dealerships on their commitment to customer service and assist dealer managers in differentiating their brand from local competitors. From the customer point of view, Dealer of Excellence is a stamp of approval that provides confidence in the new- and used-vehicle shopping experience.
What Makes You Choose One Dealership Over Another?
It's the way you're treated! Where you purchase a vehicle is an important decision, and choosing the right dealership can make all the difference. When visiting a J.D. Power Dealer of Excellence, be assured that the dealership is committed to providing an outstanding customer experience during the entire process. Do you deserve anything less when buying a new vehicle? We strive to provide a top-of-the-line luxury car buying experience that will keep you part of the Bill Jacobs Family for years to come. At Bill Jacobs BMW the cars bring you in, the experience brings you back.
What is the J.D. Power Dealer of Excellence Award?
The J.D. Power Dealer of Excellence Program reflects the commitment and dedication of select retailers to provide their customers with a purchase experience that meets today's consumer expectations. Not all dealerships can qualify. Those that do must pass a three-step process:
First, J.D. Power uses feedback from more than 25,000 consumers like you to limit the percentage of eligible dealerships by brand. In other words, we consider proportionally more dealerships from top-performing brands for Dealer of Excellence.
Second, interested dealerships must rank among their brand's top performers in key customer satisfaction areas consistent with measurements found in J.D. Power's Sales Satisfaction Index (SSI) Study.
Finally, qualifying dealers must pass a dealership audit and show they meet or exceed J.D. Power sales best practices. Those best practices include, but are not limited to:
Listing vehicle inventory and pricing on the dealership website
Negotiating in an efficient and transparent manner
Offering a fair trade-in value
Presenting a clear and easy-to-understand F&I product menu
When you choose to visit a J.D. Power Dealer of Excellence you can be confident the sales team will be just as committed to providing an exceptional customer experience as they are to selling a vehicle.